BHP cautious on iron ore with Australian skill shortage
Posted on 20 July 2021
UK-Australian resources firm BHP expects to produce 246mn-255mn t of iron ore from its Western Australian (WA) operations on an equity basis for the 2021-22 fiscal year to 30 June, after a weaker than expected April-June quarter because of labour shortages bought it within its 2020-21 guidance of 245mn-255mn t at 253.5mn t.
BHP said it will continue to focus on incremental growth, despite firm iron ore prices, with major maintenance planned for the No.1 car dumper at its port facilities at Port Hedland in the Pilbara region of WA to drag on sales during July-September. Despite increasing labor shortages, the guidance is conservative considering that the firm has completed major tie-in activity associated with its 80mn t/yr South Flank mine. It delivered its first ore in May and is designed to increase the average grade of BHP's ores from 61pc Fe to 62pc and its total proportion of lump sold to 30-33pc from 25pc.
The WA guidance does not include production from its 50pc share of the Samarco mine in Brazil, which is expected to rise to 3mn-4mn t in 2021-22 from 1.9mn t in 2020-21. BHP expects Samarco to reach 8mn t/yr in January-June 2022.
BHP sold 65.25mn t from WA on an equity basis during April-June, down from 68.16mn t a year earlier, despite the contribution from South Flank, but up from a seasonally lower 58.63mn t for January-March. The weaker than expected April-June followed weaker production figures from rival Pilbara iron ore producer Rio Tinto for the period, as labour shortages exacerbated by border closures between Australian states and internationally drag on productivity.
Firms operating mines across Australia are struggling with skills shortages, as access to the global labour pool has been cut by strict border policies and mandatory quarantine. The situation is more acute in WA because the state often closes its borders to other states with small outbreaks, as it has now, stopping most fly-in fly-out workers from arriving from the more populous states in east Australia. This led to a shortage of train drivers in the Pilbara during January-June curtailing sales of iron ore.
The skills shortage is also contributing to inflation with BHP's WA iron ore operations tracking towards the upper end of its unit cash cost guidance of $13-14/t fob Port Hedland. This guidance is based on an US-Australian dollar exchange rate of $0.70. The firm achieved cash costs of $13.30/t for July-December based on this exchange rates. These creeping costs are unimportant for BHP at current iron ore prices but could cause problems for more marginal producers if prices start to ease.
BHP drew down on stocks during April-June, selling around 1mn t more ore than it produced in WA.
BHP received an average price of $158.17/wet metric tonne (wmt) fob Port Hedland for its WA iron ore during January-June, up from $103.78/wmt in July-December and from $76.67/wmt for January-June 2020. Rio Tinto received an average price of $154.90/wmt fob Pilbara ports for January-June.
Argus yesterday assessed the ICX iron ore price at $220.50/dry metric tonne (dmt) cfr Qingdao on a 62pc Fe basis, up from $209.30/dmt on 1 June but down from a high of $235.55/dmt on 12 May. The most recent assessment was up from $167.45/dmt on 1 April and $159.90/dmt on 31 December. Argus last assessed 58pc Fe at $183.35/dmt cfr Qingdao, down from a high of $207.10/dmt on 12 May but up from $155.95/dmt six months earlier.
Iron ore prices ($/dmt)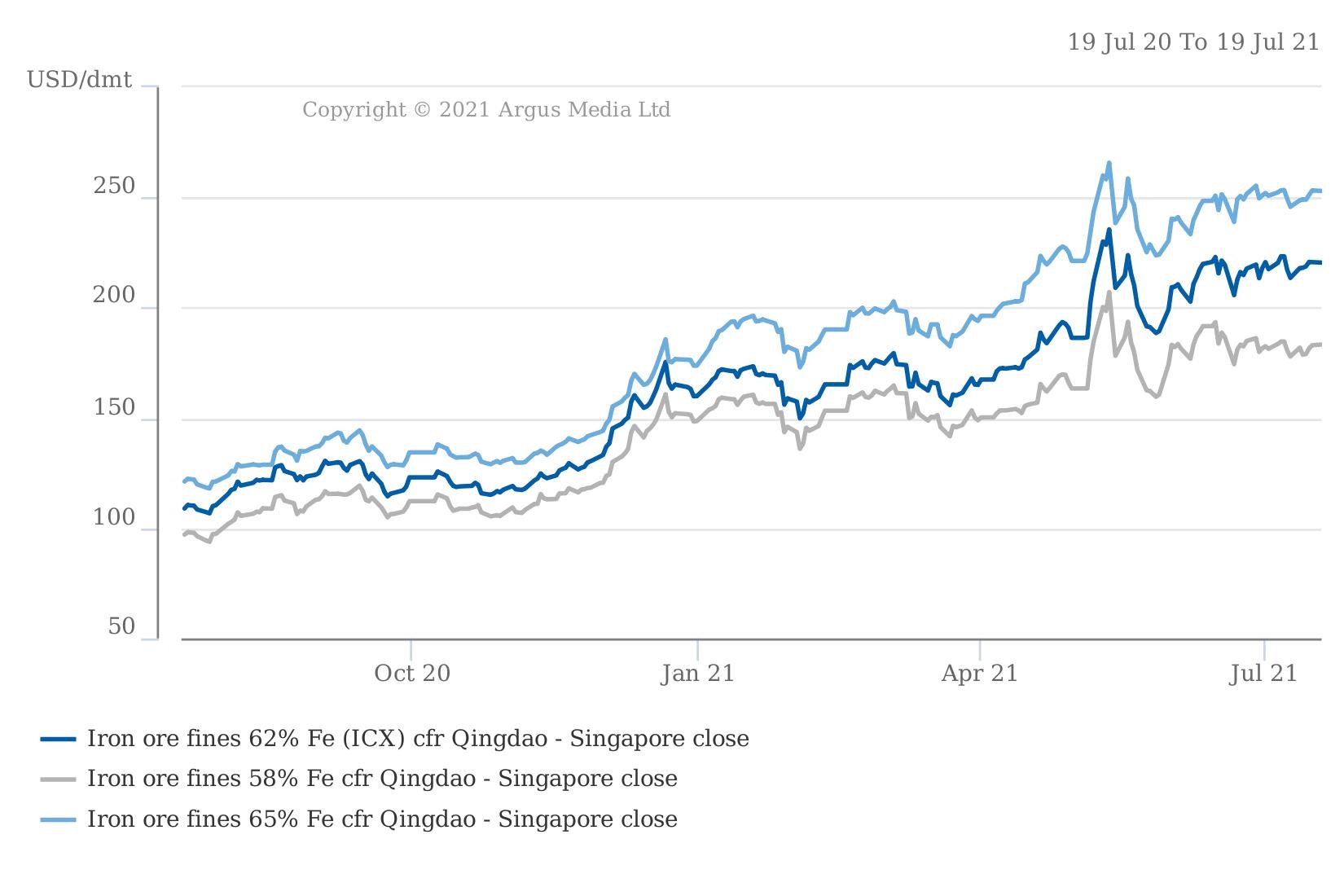 Source : Argus